Rhythm Infusion III w/ Monette Marino!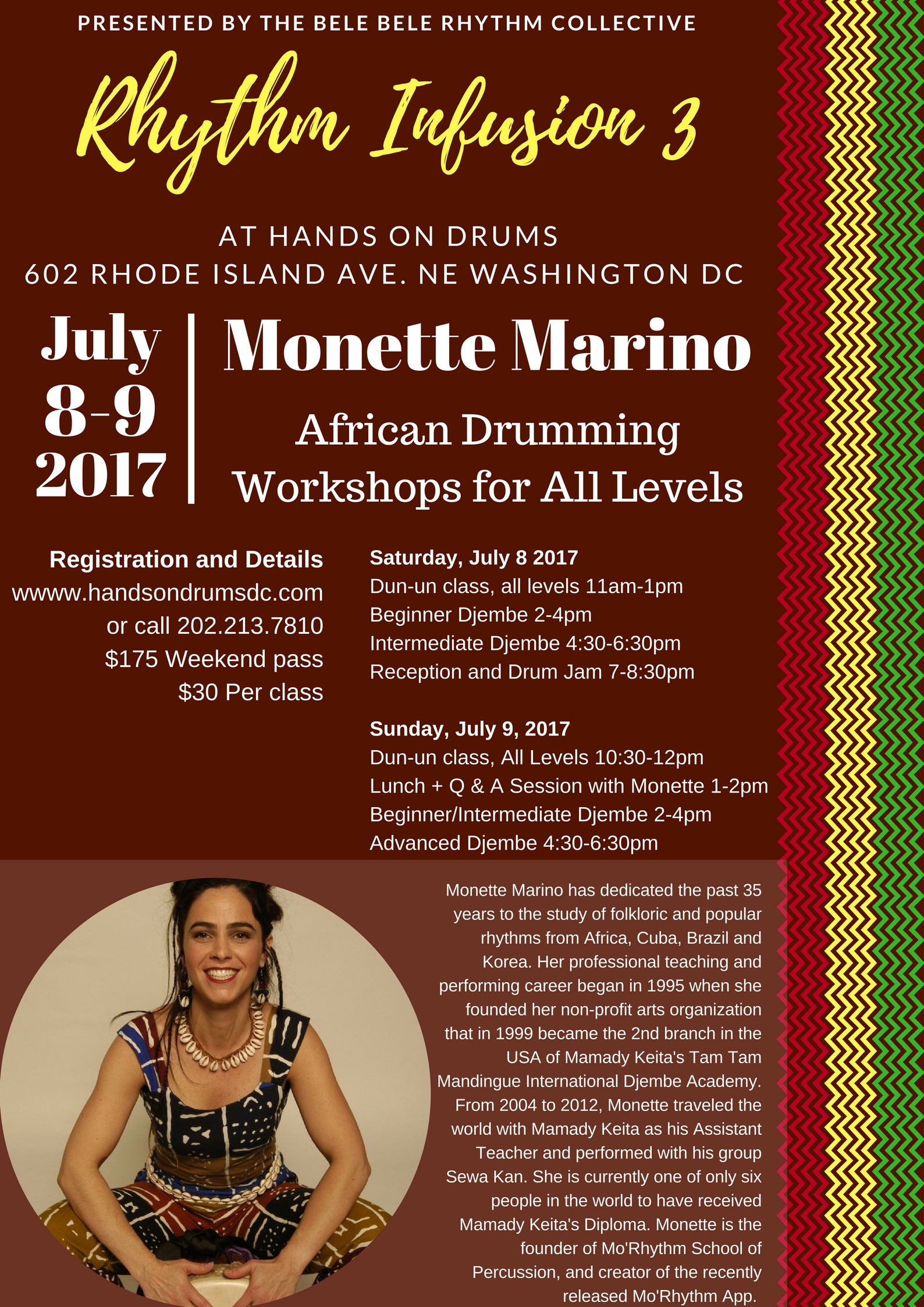 REGISTER NOW at the following link:
https://docs.google.com/forms/d/e/1FAIpQLSd4X_u81sw0CbQtmW0KiJGgVIV-eoS9yp2fEwWlLduUakoVdg/viewform?usp=send_form

In lieu of summertime madness, Kristen Arant, Yuma Bellomee and Michael Kweku Owusu are teaming up for a Triple Rhythm Fest at the Hands on Drums shop this Saturday July 1.
Here's what's happening:
10am – Vendors invited to set up on our "patio," facing Rhode Island Ave and just one block from the metro
11am – Kids percussion workshop with Uncle Devin – $5 per participant
3-4:30pm – Manian (Forest Guinea) rhythm exploration with Drumlady Kristen Arant – $20 suggested donation; $5 drum rental
5-6:30pm – Senegalese rhythm exploration with Dr Yew (Yuma Bellomee) – $20 suggested donation; $5 drum rental
7-8:30pm – Akan (Ghanaian) rhythm exploration with Michael Kweku Owusu – $20 suggested donation; $5 drum rental
VENDORS: Contact us to let us know you're coming, and we'll include you in our outreach
Text 202-213-7810 for more info
See you soon!
DRUMMING & EXPERESSIVE ARTS PROGRAM FOR GIRLS 10 & UP AT HANDS ON DRUMS THIS SUMMER!
The Young Women's Drumming Empowerment (YWDEP) is a 501c3 non-profit based in Washington, DC. YWDEP gives rise to young women's self-esteem, positive development and creative self-expression through DRUMMING, POETRY. MOVEMENT, SONG and PERFORMANCE.
Check out YWDEP: www.youngwomendrum.org
YWDEP in partnership with Hands on Drums presents:
Drum It Up, Call it Out!
A summer experience for young women ages 10-18
Led by "Drumlady" Kristen Arant, percussionist, performer and teaching artist, and featuring local teaching artists in West African drum and dance, poetry, spoken word, song and theater.
You will Learn:
*West African hand and stick drumming
*West African rhythms, songs and dances
*How to write poems, recite spoken word, write songs, sing and dance
*How to collaborate with others to create powerful performance pieces
You will Create:
*Your own rhythms, songs, poems, dances and spoken word pieces
*Lasting friendships with other young women
*Relationships with teaching artists and mentors
*Self awareness, Self-expression, Identity
You will Experience:
*A safe, all-girl space free of judgement
*Consistent compassion and encouragement during your process of creating art
*Release of anger, frustration and depression
*Empowerment
Dates:
9 weeks
17 sessions
Thursdays, 6:30-8:30pm on…
June 22
July 6, 13, 20, 27;
August 3, 10, 17, 24
Sundays, 4-8pm on…
June 18
July 9, 16, 23, 30
August 6, 13, 20
All Sessions held @ Hands on Drums, 602 Rhode Island Ave NE, Washington, DC 20002
Fee: Sliding Scale, determined on a family-by-family basis
Young Women, Girls, Parents: Private Message or email Kristen Arant to register: kristen@drumlady.com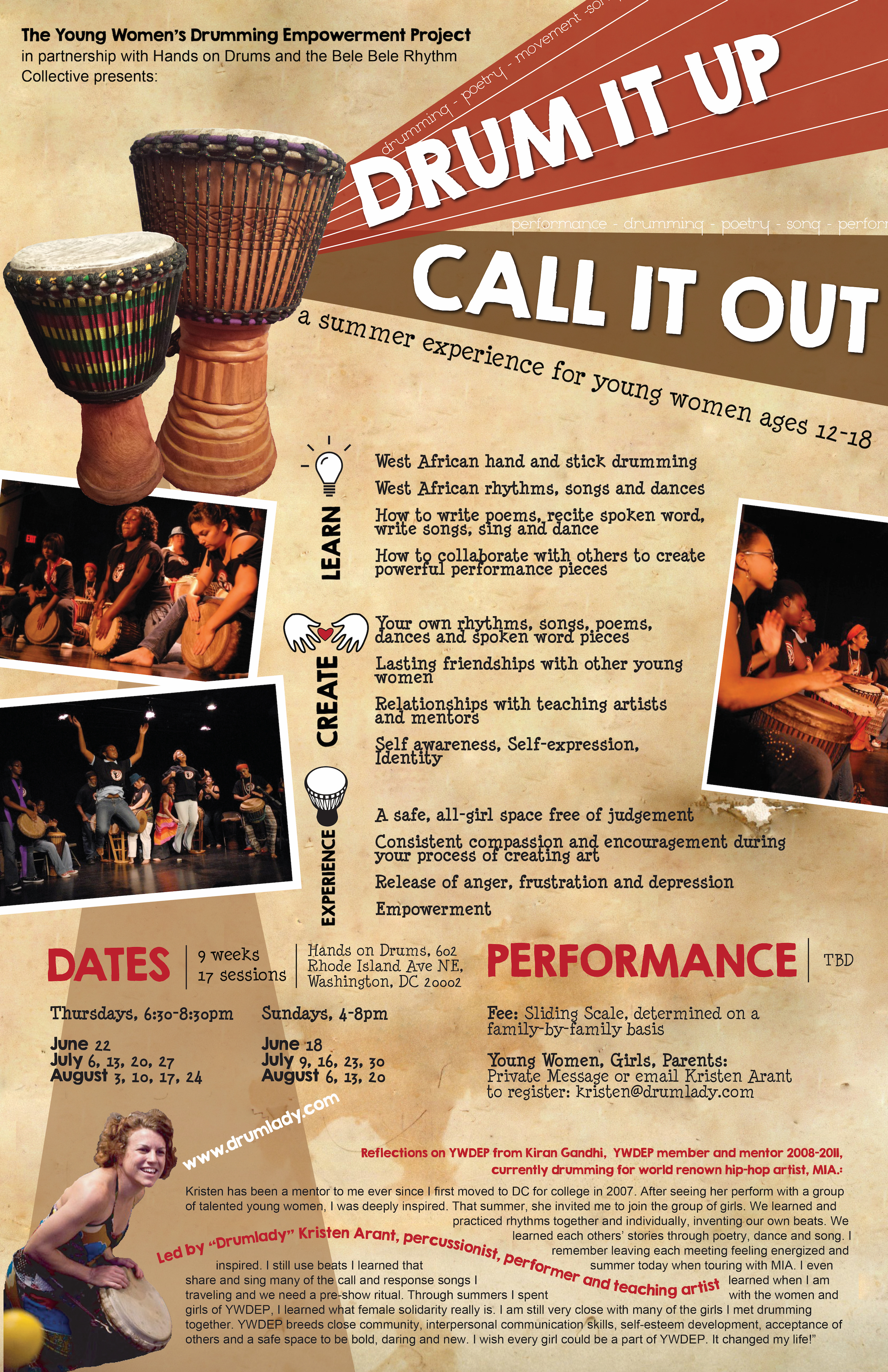 It's been a year since we tore out the guts of the abandoned L&W auto parts shop and turned it into a community space full of good vibes, goregous hand crafted drums, fashions, instruments and accessories from our craftworker community in Ghana, and most of all…GOOD PEOPLE.
That said, we invite you this Saturday to PLEASE COME.Dance and sing to the Bele Bele Rhythm Collective, Nii Dembaya, and Los Caribbeat. Check out a demo on Family Capoeira and Ghana drumming styles. Browse our local craft vendors offering healing arts and delicious foods and drinks. And check out our SPRING LINE of drums and clothing.
SCHEDULE:
12-9pm Vendors! Hands on Drums, Stuck on Ginger, the Sacred Kitchen, Zoe the Designer, Yew 360 Wholistic Health & Wellness, A Soulful Touch Wellness chair massage, Treat Artisanal Chocolates, Lotus Eats Life Feminine Apothecary, House of Lukaya, Crafty Blessings
2pm – Family Capoeira demo with James Muwonge
3pm – Ghana drumming demo with Kweku Owusu and Nii Adjei
4pm – Performance by Bele Bele Rhythm Collective
5pm – Performance by Nii Dembaya drumming
7-9pm – 2 Sets performed by Los Caribbeat
COME ON OUT!
————
Afia Walking Tree – Drum Medicine in DC
SAVE THE DATE: AFIA WALKING TREE is coming to DC on March 4!
www.afiawalkingtree.com
Workshops in basic percussion techniques will be followed by DJEMBE FEVER and DRUM AS MEDICINE – Experience an intense moment of connection with the drum as a tool for healing. Workshop descriptions and Schedule Forthcoming!
REGISTER NOW!

Afia Walking Tree, M.Ed – Educator, Facilitator, and Ritualist, Afia Walking Tree, M.Ed is a world-class cultural ambassador, spiritual activist, empowerment guide, leadership development advocate and trainer. Born and raised in Kingston, Jamaica. Walking Tree's drum-songs are prayers of gratitude for the generosity of spirit. Her lyrics are evolutionary teachings, addressing present day issues of social justice, freedom, healing and self-love. For over 25 years, Afia Walking Tree has served her destiny as visionary director of her brainchild, Spirit Drumz, an international organization that prioritizes women and youth of all cultures to utilize African Diasporic song, permaculture, drumming, dancing, storytelling to activate empowerment and healing. Afia's work has always been rooted in liberation of the global Black Family and in the last two years, in response to the Black Lives Matter movement, Afia has created new spaces for Black healing and activism through the Jamaican Drum Retreats for Womyn, and #BlackPowerDrumMedicine. Afia's continued evolution is supporting the growth of the drumming arts as a tool for activism, healing and community building through partnerships with One Billion Rising, Echo Valley Farms, Open Meadows Foundation, and many others. Afia has been blessed to bring her powerful work to Bioneers , Northern California Permaculturre Convergence, TEDWomen 2016 and numerous, festivals, non-profit organizations, and universities across the globe.
MORE HERE: www.afiawalkingtree.com

Help build a home and workshop in Ghana for Hands on Drums craftworkers
Hands on Drums is building a home for our Ghana craftworkers, whose homes and workshops in the Accra arts center annex are being demolished for development. Our craftworkers are artisans: tailors, carvers, blacksmiths, cobblers, instrument builders, soap makers, jewelers and more. We purchase their beautiful items via direct trade and sell them in our pop-up store, Hands on Drums, in Washington, DC – a hub for culture, community, cooperative economics, music, healing and peace-building.
Here is a link to Contribute:Hands on Drums: DUFP Home for Ghana Craftmakers
CLASSES
SUNDAYS: Drum Class with drumlady Kristen Arant | 4 – 5:30 p.m.
| $20 drop-in, $5 to rent a drum | Feb. 19, 26; March 5, 12,19 and 26 | ALL LEVELS WELCOME | Ages 13 & Up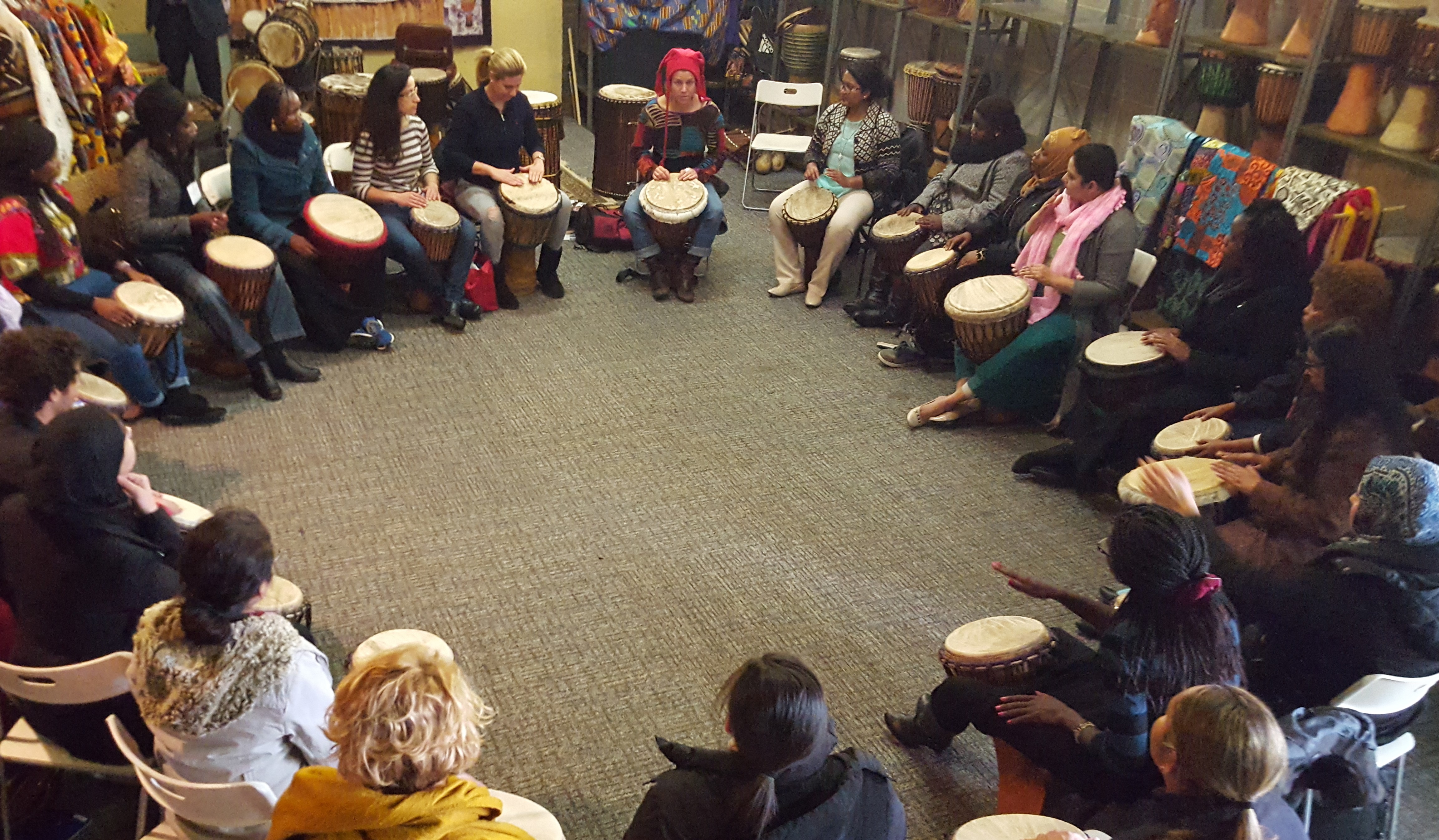 MONDAYS: Drum Class with Dr Yew | 7- 8:30 p.m. | $15-$30 per person, sliding scale | Drums available for rent or purchase | call/text (202) 469-0264 for more info.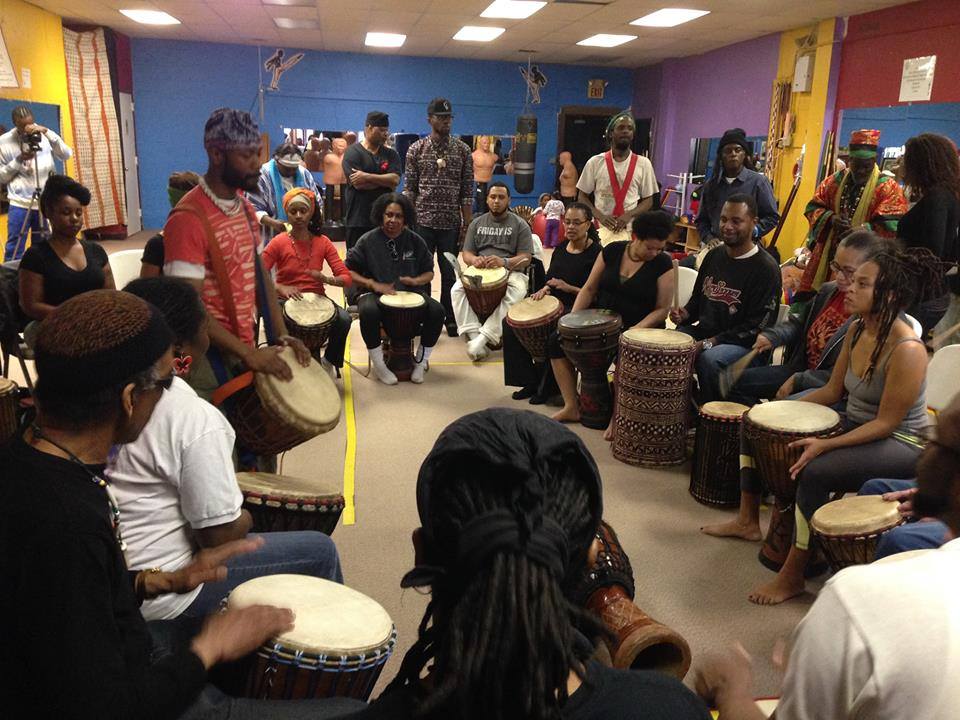 TUESDAYS:  OPEN – Our Tuesday dance class is no longer in session. If you'd like to hold your class or event at Hands on Drums on Tuesdays, contact us!
WEDNESDAYS: Family Capoeira with James Muwonge | 6PM-7PM | All Ages | $25 a week | Registration & details: https://squareup.com/store/thefamilydances/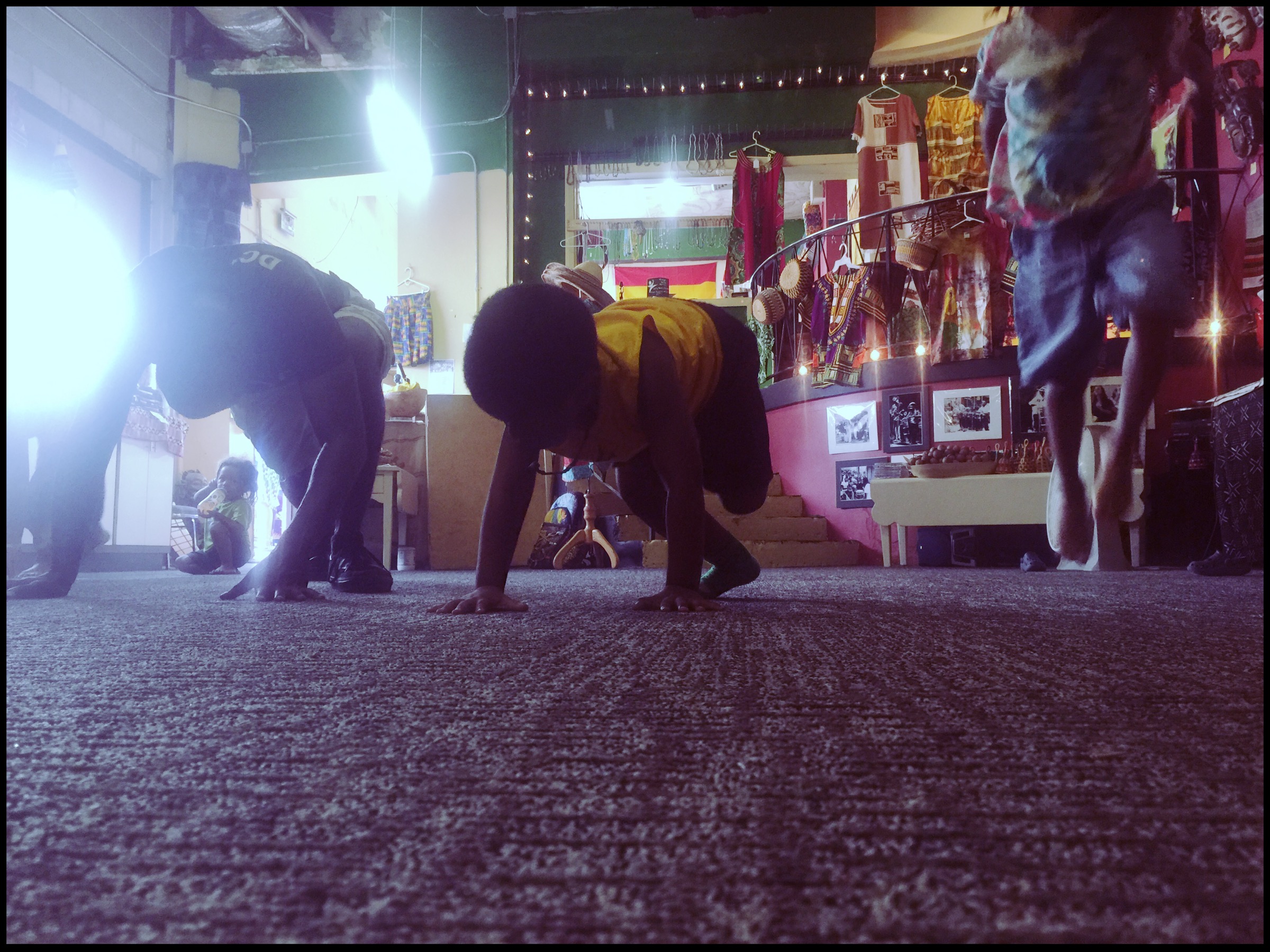 SATURDAYS: African Drumming 101 for KIDS ages 6-12 with Kweku Owusu | 10-11am | $15 fee | drums available for rent or purchase | call/text 202-375-9110 for more info. NOTE: Class is currently on hold as Kweku is in Ghana. Stay tuned, we'll be back on soon!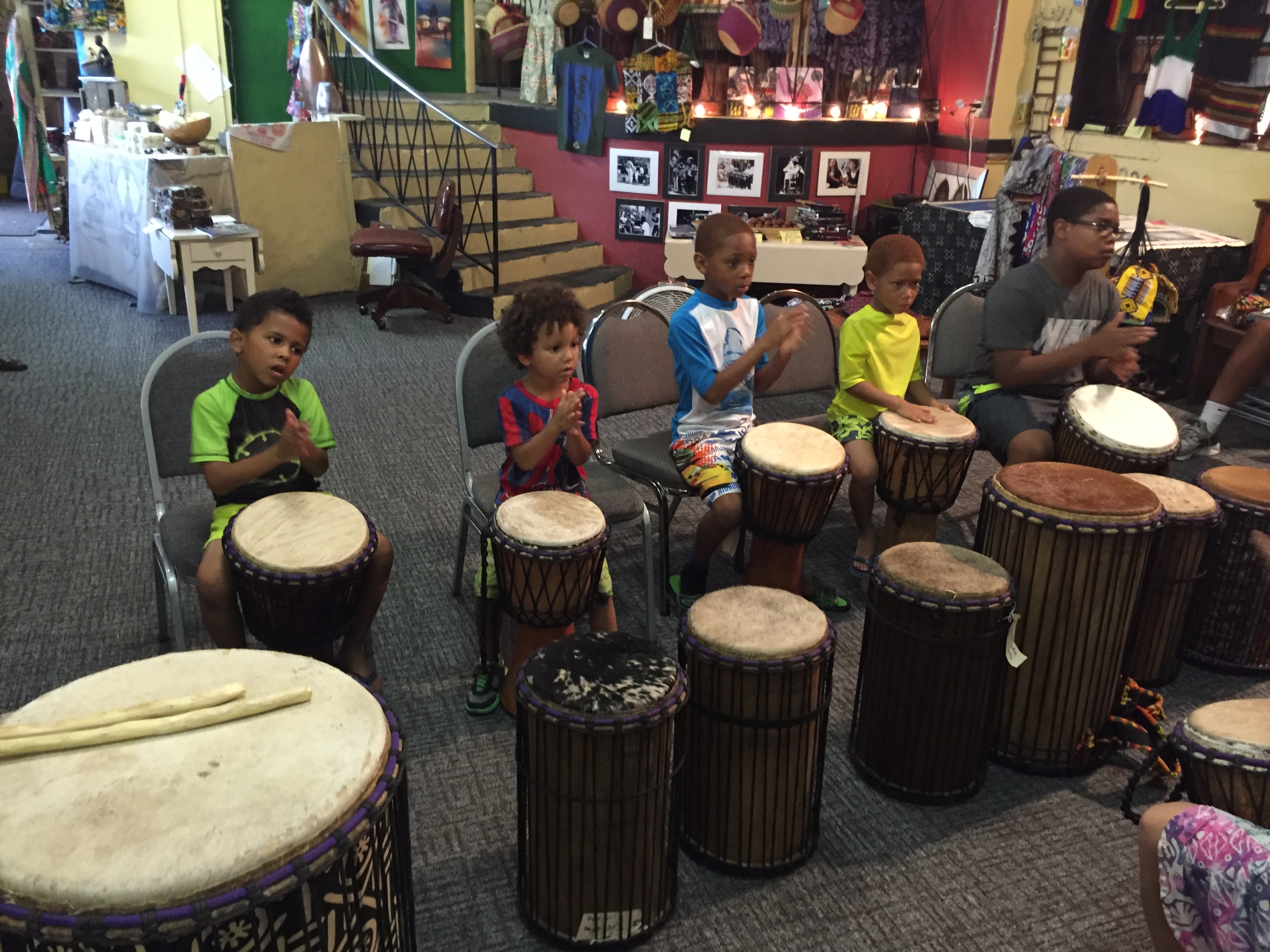 UPCOMING EVENTS
Saturday Dec. 17 Holiday Bazaar and Reunion Performance of the Akoma Drummers! 10am-8pm at the shop.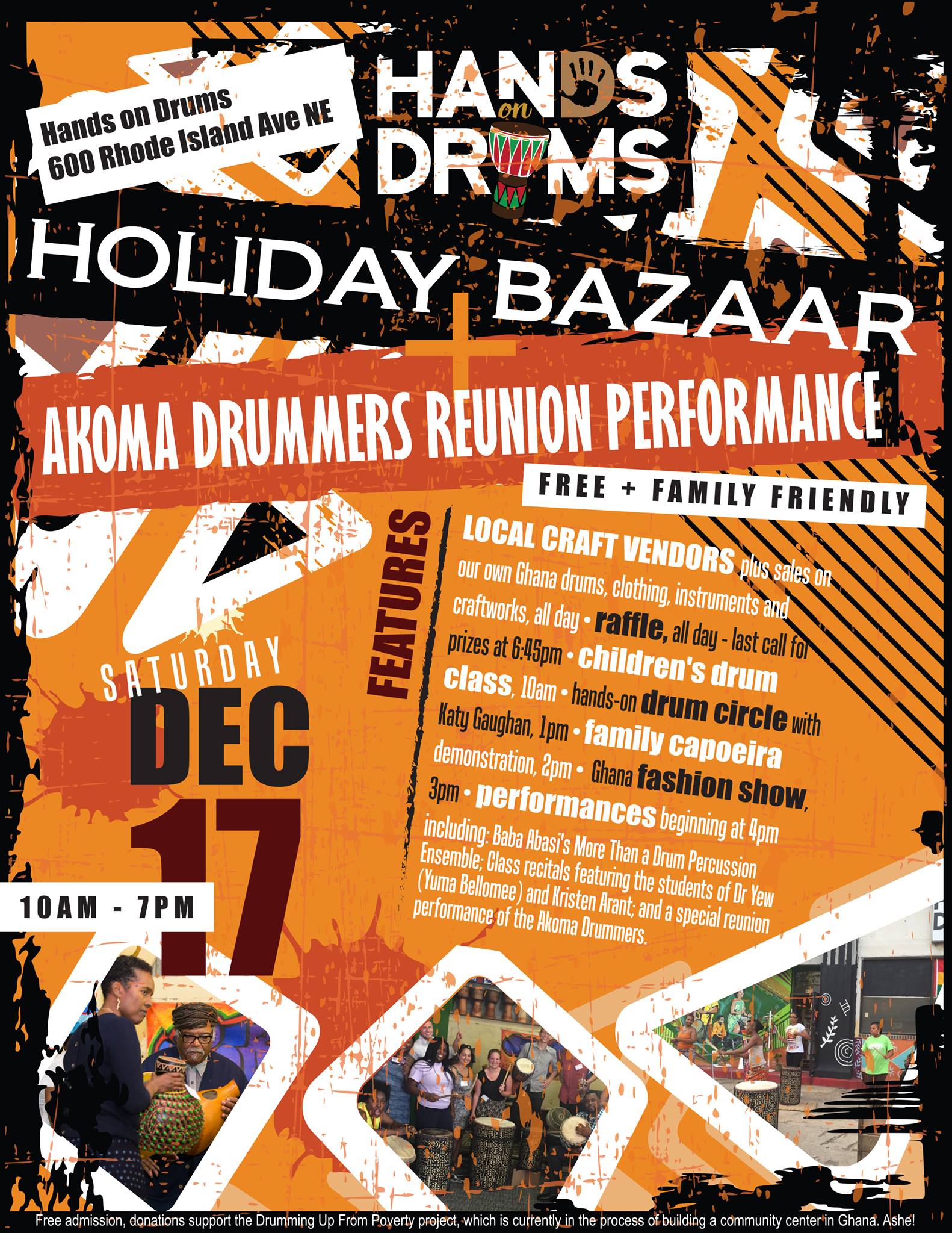 May 18 & 20: West African drumming workshops with Sayon Camara

Hands on Drums Presents:
2 African Drumming Workshops with Master of the Djembe and Long Time Apprentice to Famoudou Konate…
SAYON CAMARA
Wed May 18, 2016
7:30 – 9:00 pm and
Fri May 20, 2016
7:30 – 9:00 pm with
Meet the Artist
at 6:30 pm
With an amazing 14 year apprenticeship to world renowned Famoudou Konate, during which Sayon was a member of Famoudou's Hamana Foli Kan ensemble along with Billy Konate, Nansady Keita and others, Sayon is honored to think of Famoudou as his drum father. Sayon lovingly shares what he learned and the rich culture of the drum, music and song from the Sankaran region of Guinea, with an impeccable sense of time and a sound on the djembe that is as clear as a bell.
All are welcome to these mixed level classes…Sayon will keep everyone busy!
$25/class • Drums are available to rent for class – $10 rental fee * Drums also available for purchase
This event will be held at: Hands On Drums
600 Rhode Island Ave NE, Washington DC
For info go to:  HandsOnDrumsDC.com
or Call/Text Kweku: 202 375 9110
More on Sayon:  SayonCamaraDrumming.com
SATURDAY APRIL 30:
Hands on Drums GRAND OPENING, featuring new djembe and dun-un drums, a variety of percussion instruments, clothing and accessories from our Ghana craftworkers. Come between 11am and 7pm to check out our shop. 2pm – All Ages Drum Circle.  Performance by BATALA.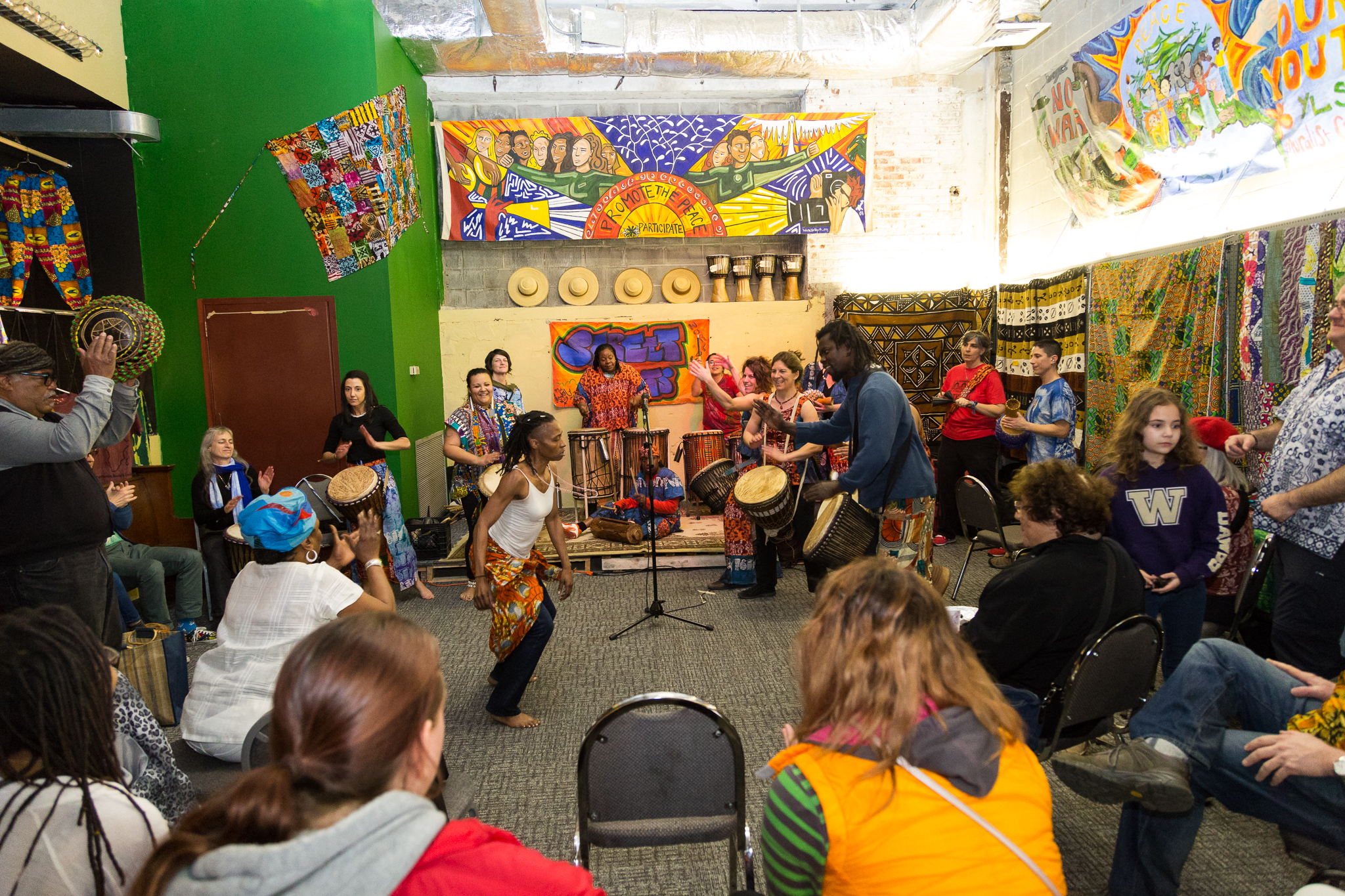 3 SATURDAYS of YO!DRUM:
APRIL 30, MAY 21 & JUNE 26 with the Hands on Drummers and yoga teacher Adrianne Burke. 4-5pm yoga with LIVE drumming. All are welcome. $15-$30 Sliding scale fee.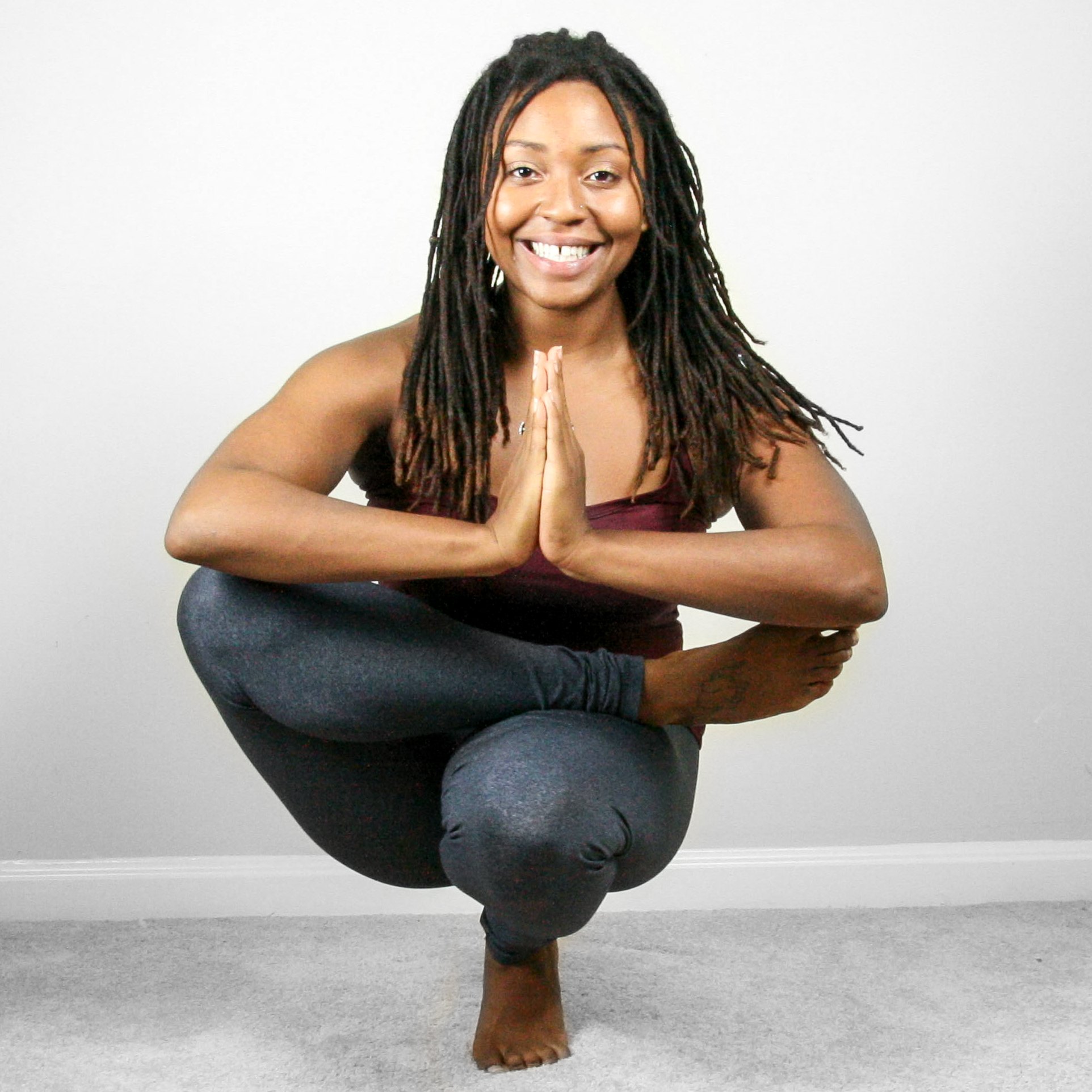 SATURDAY JUNE 26:
Hands on Drums will be participating in the FREE (Up)Rising Festival, 12pm-6pm at various addresses up and down Rhode Island Ave Main Street between 4th and 24th ST NE.  This is an arts-focused festival that weaves its way through Rhode Island Avenue businesses, open areas and vacant properties. This year explores the theme of creative collaborations – innovative and artistic ways to solve complex problems. More information at: www.riamainstreet.org. 
MARCH 20: SPACE ACTIVATION & SUPER SALE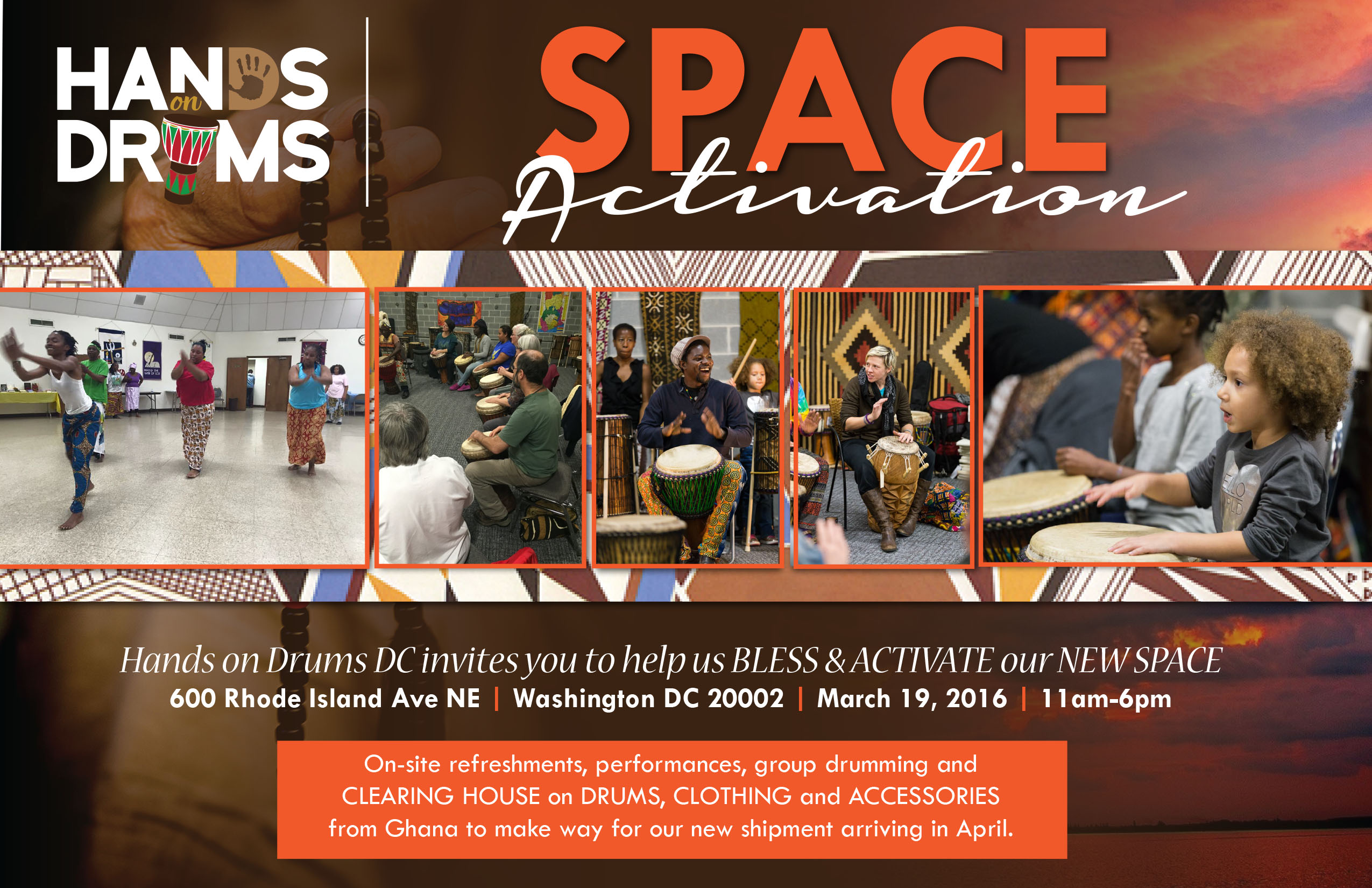 HANDS ON DRUMS DC : 
SPACE ACTIVATION & SUPER SALE 
Hands on Drums DC invites you to help us BLESS & ACTIVATE our NEW SPACE at 600 Rhode Island Ave NE, Washington, DC 20002 on March 19, 2016 from 11am-6pm. The NEW Hands On Drums is located at 600 Rhose Island Ave NE, just a block South of the red line at Rhode Island Ave station. Free parking available (first come first served) in National Self Storage lot at 600 Rhode Island Ave NE as well as in the Forman Mills lot behind the McDonalds.
After a month of clearing out the old L & W Auto Parts shop on Rhode Island Ave, Hands on Drums is ready to ACTIVATE our new shop space with partners MRP Realty, ReCreative Spaces, and Rhode Island Ave Main Street.
On-site refreshments, performances, group drumming and CLEARING HOUSE on DRUMS, CLOTHING and ACCESSORIES from Ghana to make way for our new shipment arriving in April.

2/13 + 2/14: CLOSING PARTY & LOVE FEST
We are so sad to say goodbye to our beatufiul pop-up store and community space in Ivy City, so we're inviting folks to come and share the love with us on Valentine's weekend.
Saturday will feature an all-ages drum circle from 12-1:30 with Katy Gaughan, and another with Rainbow Joe Kennedy from 4-5:30pm, as well as a Chyrsolite Painting workshop from 7-9:30pm.
Sunday will feature a drum class with the Drumlady from 4-5:30, followed by a Goodbye Concert at 6pm with multi-talented percussionists Kweku Owusu, Kristen Arant, Abasi Johnson, Jason Walker and Yuma Bellomee, and a potluck dinner with options for those who can help us with some heavy lifting (moveing stuff into a U-haul.)
All weekend long we'll have our beautiful drums, clothing, jewelry, instruments, artwork and craft items marked down. And we'll have clothing swap for families (clean out your closet, come with your best wearable items and take some "new" ones home with you).
Delicious raw foods and juices will be featured from our vendors Stuck on Ginger and Nature's Grace – all weekend.
Between now and then, we'll be announcing other events happening that weekend on this page. Please use this page as a place to share your favorite memories and experiences.
Click here for schedule and more info.
PAST EVENTS
11/14: GRAND OPENING PARTY!
Saturday, November 14, 3pm-12am
Featuring:
Drum Jams for all ages
Open Mic for performers
Public Art installations
Performances by: The Bele Bele Rhythm Collective and THE BEAT FAIRY with Sunny and Cheick Hamala DiabateDrums, clothing, jewelry and crafts made by Ghana folk artists available for purchase in our boutique area.Drinks & Snacks all day long!FREE PARKING AVAILABLE at MOM'S ORGANIC MARKET LOTHands on Drums is Pop-Up Store and Arts Empowerment Initiative that celebrates and supports the work of Ghana Craft Makers while delivering hands-on drumming experiences to uplift communities.Hands On Drums was founded by Michael Kweku Owusu and Kristen Arant. Our 3-month Pop-Up Space is made possible by a grant from Cultural DC.
11/20 + 11/21: "THE BEST!" Drumming
Fri. 7p.m. – 10p.m. | Sat. 3 – 6p.m.
workshop series with master drummer from Ivory Coast, DR. DJO BI
For Pre-Registration or More Info, Contact Yuma "Dr. Yew" Bellomee: Ph: (202) 469-0264 – www.facebook.com/nidembaya
12/3: YO!DRUM WITH KRISTEN ARANT & HAWAH
6:30 – 8:30p.m. Bring a mat $20
A workshop that creatively weaves together two stress-relieving, immune-building, therapeutic art forms: Yoga and Drumming. With master drummer Kristen Arant and master Yogi Hawah.
01/16: DRUM FOR PEACE POTLUCK
January 16, 12p.m. – 2p.m.
This event is organized by the Capital City PCS 5th and 6th grade music classes who are studying songs of peace and protest. Our goal is to bring people together and share the food, and the peace and protest music of our generation. Please feel free to bring a nut-free dish or just a desire to gather with friends for an afternoon of fun.
Founded by ongoing Capital City PCS visting artists, Michael Kweku Owusu and Kristen Arant, Hands On Drums is a Pop-Up Store, Community Space and Arts Empowerment initiative that celebrates and supports the work of Ghana craft makers while delivering hands-on drumming and arts experiences to uplift communities.
Please contact Mrs. Ayanna Gallant, Middle School Music teacher, at 202.808.9800 or email agallant@ccpcs.org for more information.
01/23: DRUM JAM with Bro. Thomas House and Iya Sawu
Satruday, January 23rd, 5p.m. – 8p.m.
Come out and join us on Saturday, January 23rd from 5 p.m. – 8 p.m. at Hands on Drums for our 3-part drumming and dancing workshop, featuring special guests, Bro. Thomas House and Iya Sawu! This is going to be HOT!
01/30 + 01/31: RHYTHM ENFUSION
January 30th + 31st, classes all day
JOIN US FOR AN INCREDIBLE WEEKEND OF CLASSES with Master Drummer & Teacher, MONETTE MARINO.
Saturday 1/30:
Dun-un class, all levels (
11am-1pm), 
Beginner Djembe (
2-4pm), 
Intermediate Djembe (
4:30-6:30pm), Reception and Drum Jam (7-8:30pm)
Sunday 1/31: 
Dun-un class, All Levels (
10:30-12pm), 
Lunch + Q & A Session with Monette (
12:30-1:30pm), 
Beginner Djembe (
2-3:30pm), Intermediate Djembe (

4-5:30pm), 
Advanced Djembe (

6-7:30pm).
Monette Marino has dedicated the past 35 years to the study of folkloric and popular rhythms from Africa, Cuba, Brazil and Korea. Her professional teaching and performing career began in 1995 when she founded her non-profit arts organization that in 1999 became the 2nd branch in the USA of Mamady Keita's Tam Tam Mandingue International Djembe Academy.  From 2004 to 2012, Monette traveled the world with Mamady Keita as his Assistant Teacher and performed with his group Sewa Kan.  She is currently one of only six people in the world to have received Mamady Keita's Diploma. Monette is the founder of Mo'Rhythm School of Percussion, and creator of the recently released Mo'Rhythm App.
SATURDAY DRUM REPAIRS
2:30 – 4:30 p.m. / pricing varies
Ever wonder if you could build your own djembe drum? Or repair the broken one that's been sitting in your house collecting dust (or worse yet – gasp – being used as furniture?) Want to become self-sufficient in the tuning and maintenance of your djembe? Then this workshop is for you.
Click here for prices and more info.
12/16, 12/23, 1/6, 1/13, 1/20, + 1/27: 6 WEEKS IN 6/8
7:00 – 8:30 p.m. / $90 for the series or $20 to drop in
Join Jason Walker for 6 weekly sessions studying rhythm in 6/8 meter. Discover how an understanding of this time signature can enhance your rhythmic vocabulary and kick up your swing in any meter or style of playing, from Afro Cuban, jazz and funk to swing and traditional drumming.
These classes will cover the bell, pulse, and half pulse that are the root of 6/8 as well as a number of related drum patterns. The material will be reviewed and built upon in each session giving participants the ability to progress at their own pace.
Jason Walker is a multi-disciplined percussionist and educator. He is a member of the multi WAMMIE award winning Chopteeth Afrofunk Big Band, blues and roots powerhouse Hard Swimmin' Fish, and the Vibe Collective (Latin Jazz). As a dance accompanist, Jason has over a decade of experience moving people with rhythm…and he uses a lot of 6/8 to do it!
Some drums are available to rent from instructor for $5 per class. All hand drums welcome.
Click here to learn more.